Posted by Total Beauty 12/18/12 at 03:31PM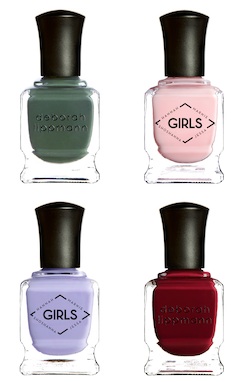 If you're still busy trying to become who you are, as Lena Dunham's Girls character Hannah Horvath so eloquently put it, we've found something that may help you on your quest. Deciding whether you're truly a Marnie or more of a Jessa at heart is now a few brush strokes away.

Dunham and fashion's favorite manicurist Deborah Lippman have collaborated to create a limited edition set of nail lacquers inspired by the hit series' four twenty-somethings that we've come to love (well, most of the time anyways). The Girls collection, $45, contains four shades of nail polish that symbolize each of the girls' distinct personalities. Hannah comes in the form of a hapless hunter green, Marnie is a prim and proper pink, Jessa is a sultry bohemian burgundy, and our innocent Shoshanna is a virtuous and vivid violet.

If your DVR is already anxiously awaiting the return of "GIRLS" on January 13, 2013, you can also add these lacquers to your queue: The collection hits shelves February 1st at www.deborahlippman.com, Bloomingdale's, Nordstrom and Neiman Marcus and the HBO Shop.