Posted by Total Beauty 09/25/12 at 09:00AM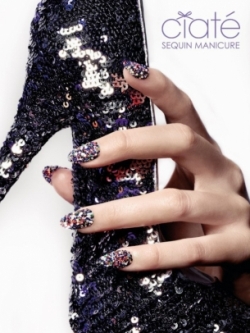 It's a little early to be deciding on a New Year's Eve manicure, but we're going to go ahead and guess sequins will be this year's biggest trend.
It's not that far of a leap, after all glitter-filled fingertips usually dominate in December. Which is why it makes sense that Ciate would take the sparkle effect to the extreme. Yes, that's right, the leader in 3D manicures (they also produced the caviar and velvet nail sets) has announced their newest textured creation: the Sequin Manicure. The kits come in three different shades: Harlequin, a primary multi-color mix; Tutu, a feminine mix of pinks, purples, and reds; and Super Duper, a blinging combo of gold, copper, and green. Each Sequin Manicure, $15, comes with one pot of sequins, a "Little Black Brush," and "Glitter Grip" (a maximum hold clear polish).
The glitzy manicure will be available in stores and online mid-October -- just in time for the holidays.