Posted by Total Beauty 02/21/12 at 01:20PM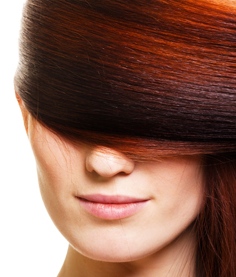 Ever stare at the massive hair color aisle at CVS and wonder: How the heck am I going to find the right shade? It's not easy -- and we all know that choosing wrong can mean some major embarrassment (at least until you can get to the salon to fix it). Case in point:
this at-home hair color gone wrong story
.
To help, Kris Sorbie, Education Artistic Director at Redken 5th Avenue (and the creator of the Ombre hair color technique!) shares a few guidelines with us:
First up, use your skin tone. If you're:
Fair: Go for blonde or very dark hair.
Medium: Keep the hair around your face medium or dark brown, then you can do any other color behind that (as highlights, ombre etc.).
Dark: Try dark brown or red, although ombre works too.
Next, try to remember your natural hair color. If it's:
Brunette: Go for a cool red, copper red or golden blonde to switch things up.
Red: Try golden blonde or a soft, warm brown for a change.
Blonde: Stay blonde! You're made for it, and you can play with highlights and lowlights to mix it up a bit.
Finally, think about how much time you're willing to spend on your hair color. If it's:
A lot: Go with multi-tones or highlights or try block color.
Very litte: Try ombre, since it'll still look great as it grows out.
For the 15 best hair color products on the market,
click here
.