Posted by Total Beauty 11/14/12 at 10:41AM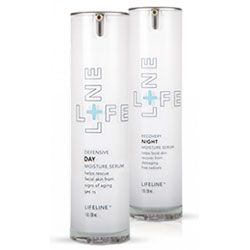 We may never find the fountain of youth, but with the advances in stem cell technology it's looking like we won't have to. The latest breakthrough: The International Stem Cell Corporation has launched their first stem cell infused skin care collection. The line is the first of its kind to offer products that use growth factors, proteins, and enzymes from human, non-embryonic stem cells. Jam-packed with those anti-aging goodies, the products claim to help your skin replace old, damaged cells with newer ones.

Sounds a bit like science fiction, right? I thought so too, but then I tried it.

Color me amazed. I assumed a stem cell product would feel sticky, heavy, and smell strongly of chemicals -- but it's nothing like that. The formula is light, absorbs quickly, and is almost odorless.

And after a few weeks of using Lifeline's Defensive Day Moisture Serum, $160, and Recover Night Moisture Serum, $190, my flaky, acne scar riddled skin is brighter, smoother, and much more supple. And though I used to never leave the house barefaced, I swear I haven't touched my foundation in a week. Though it's a bit on the pricey side, I'm OK with shelling out the extra dough since it is as close to the turning back the clock as I'm going to get.

Lifeline's DUO pack is available for $297 at www.bluespa.com.