Posted by Total Beauty 11/16/12 at 11:39AM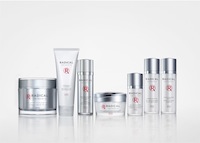 Tired of trying anti-aging products that just don't work? Us too. So naturally when we come across a line that actually gives us real results, we're going to tell the world. The latest line we're obsessed with: Radical Skincare.

This line was started by two sisters, who had worked in the skin care industry for 15 years, creating products for various brands and celebrities, before they decided to take all that knowledge and make a line for themselves. They wanted their line to have the most powerful anti-aging ingredients -- and cost was not an issue. The result was a collection of seven products with 300 percent more potency than anything else on the market.

The line has a hydrating cleanser, exfoliating pads, peptide and antioxidant serum, youth infusion serum, moisturizer, eye cream (my personal favorite), and neck and décolleté gel. There are no extraneous products, just a simple regimen that gives you noticeable results. You can pick up Radical Skincare products at Barneys and Space NK stores, or on their website.