Posted by Total Beauty 09/28/12 at 01:59PM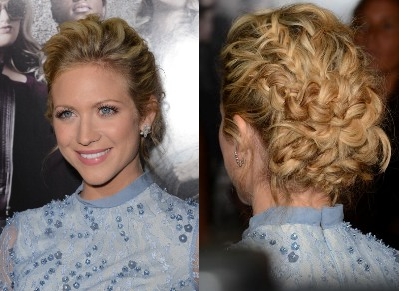 For the premiere of her new flick "Pitch Perfect," Brittany Snow pulled out all the stops. The actress displayed a flawless minimal makeup look complete with extra long lashes and a pretty light pink lipstick. But the real show-stopper was her braided updo, which was downright stunning.
To copy her uber intricate woven style, we suggest dividing your hair into two sections: top and bottom. Split the top into five sections and loosely French braid each of these smaller sections back. Then, French braid the large lower section. Twist all braids together into a messy bun or chignon, adding bobby pins for hold as you go. Lastly, for a bit more textured volume at the top of the crown, gently tease and loosen the braids with your fingers.