Posted by Total Beauty 08/23/12 at 10:54AM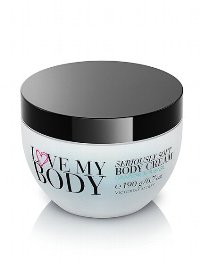 I love being surprised by a beauty product. I tend to write off items as a back-ups to keep on hand just in case I run out of my staple, but once in a while, when I end up trying it, it's so fantastic that I promote it to go-to status immediately. This doesn't happen often but when it does I'm giddy and gush about my new treasure to anyone who will listen.
Consider this, one of those moments. Last week I tried
Victoria's Secrets Seriously Soft Body Cream
, $15, a lotion from the brand's new "Love My Body" line. The luxe moisturizer could have been a knock-off of Bliss or dare I say, La Mer itself -- it's
that
great.
Just a dab of the cream kept my legs baby soft and smooth all day -- none of that slimy or sticky feel either. Plus, it has a delicious light grapefruit and basil scent that had me obsessively sniffing myself. Trust me, if you're looking for an ultra-rich body cream that doesn't cost over $50 and turns those rough, dry spots velvety soft -- this is your best bet.