Posted by Total Beauty 10/19/12 at 11:35AM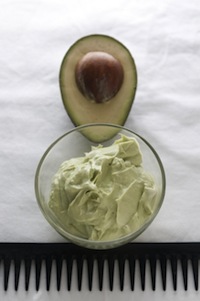 Do you have a million DIY hair mask recipes stashed on your Pinterest boards but have yet to try a single one? I get it, it's a pain to actually do when you don't have all the ingredients on hand, don't have a good blender, or just don't want to mess up your bathroom with avocado goop.
But it is worth trying these treatments, because they really do work. Which is why
TheBroot Hair Treatment Bar
in Santa Monica, Calif. is so cool. They use all-natural ingredients (avocado, honey, eggs, coconut oil, etc.) to whip up customized hair masks. At my visit, I got the strengthening treatment (plus a dash of mayo for softness, so it really was more of a custom blend). Then you get to enjoy a nice scalp massage and a few minutes under the dryer with your mask on. After, they'll rinse you out and even put your wet hair in a braid or bun for no extra charge (they also have styling tools if you don't want to head out with damp hair). The next day my hair felt softer and had less frizz post-blow dry.
The treatment is $35, which is admittedly a lot more than a DIY mask would run you, but if you're not into home treatments and want a relaxing experience it's worth it.