Posted by Total Beauty 08/21/12 at 01:23PM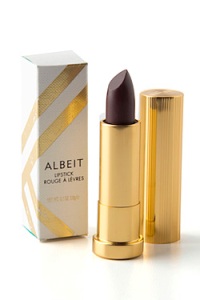 Now you can buy kitschy-chic teacups, retro-inspired dresses, and luxurious lipstick all at the same place.
Anthropologie, the home of all that is whimsical, is launching their own lipstick line called Albeit. Although this is not Anthropologie's first dip into the beauty business (they already offer a couple underground brands like Lipstick Queen and Julie Hewett), it is their first in-house collection. Not surprisingly, the line is exactly what you would expect from the thrifty store: Gold vintage-style cases that come in six trendy lipstick colors. The creamy, argan-oil infused shades are Bisque, a soft beige; Claret, a rose berry; Mauvette, a classic nude; Peony, a medium-hued retro pink; Vermilion, a timeless red with blue-violet undertones; and Mulberry, a sheer blackberry stain.
The line will be available online and in stores in late August. Personally, I can't wait to test Mulberry; its blackberry hue is perfect for Fall 2012's wine colored lip trend.