Posted by Total Beauty 05/09/12 at 10:58AM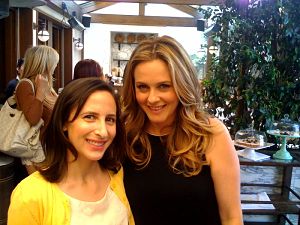 Eco-friendly and vegan celebrity (and star of one of my fave movies, "Clueless") Alicia Silverstone is adding another title to her name: beauty product creator.
The actress has teamed up with Juice Beauty to create a skin care and makeup line with five products: Simply Pure Chamomile Cleanser, $22, Simply Nourishing Moisturizer, $36, Simply Flawless Pressed Powder, $24, Irresistible Glow Facial Highlighter, $22, and Purely Kissable Lip Color, $16 (it's Silverstone's signature shade). The products are available now exclusively at Ulta and Ulta.com, but may be sold at more stores later on.
I got a chance to chat with Silverstone, who was more than happy to tell me about her beauty secrets. Her biggest tip: eat healthy. She's followed a vegan diet for more than 13 years and credits it for her glowing skin (seriously, she looks like she hasn't aged a day since she played Cher Horowitz). She also bucks the traditional beauty m.o. of wearing sunscreen on a regular basis. "I want the vitamin D," she says, adding that she'll wear sunscreen if she's going to be out all day, but most days she skips it. And, while she obviously uses her own Juice Beauty products for her skin care and makeup, she also loves Giovanni hair products and Estrella soaps.