Posted by Sarah Carrillo 09/07/12 at 06:15PM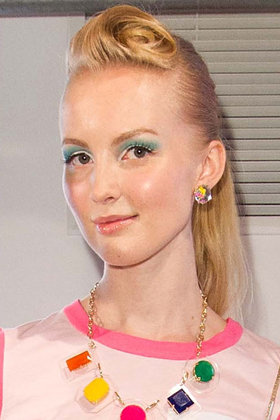 There are few things more joyful than a Kate Spade fashion show, and her rainbow-colored Spring 2013 presentation did not disappoint. Like the pretty dresses, handbags, and shoes, the makeup was all about bold pops of color. Jouer's National Makeup Stylist Neil Scibelli created the look, which was inspired by '80s rock and roll. Copy this look at home and be prepared to turn some heads:

1. Apply a few dabs of Jouer Matte Moisture Tint, $38, to skin to create a glowing base.
2. Using a white kohl pencil, line your eyes working from the inside out.
3. Apply a mint green shadow to fill the lid above the liner, winging out the ends for extra drama.
4.Next, apply Jouer Tint in Peony, $20, to cheeks for a pop of bubblegum pink.
5. Highlight above the cheekbones with Jouer Luminizing Moisture Tint, $38.
6. Finish by coloring lips with Jouer Hydrating Lipstick in Olivia , $22, and layer with Jouer Essential Lip Enhancer, $14, for a touch of shine.