Posted by Total Beauty 05/18/12 at 11:50AM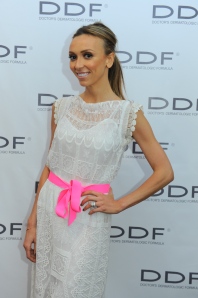 Sure, Giuliana Rancic's life seems pretty glamorous -- she has a reality TV show with her hot husband, Bill, and her job for the last 10 years has been to interview celebrities for E! News. So we were surprised to learn just how savvy she is with do-it-yourself beauty. Here are Rancic's top DIY tricks:
1. She puts on her own false lashes. She uses Ardell Wispies (the full strips) and emphasizes the importance of black glue. "The secret is letting the glue dry on the lashes -- just until it gets tacky -- and then you can mold them onto your eyes," she explains.
2. She does her own facials. "I use the
DDF Revolve Brush
twice a week," she says. "It makes my skin look brighter -- my freckles are disappearing."
3. She whitens her teeth at home -- and believe us, it's working. "I use Crest Whitestrips," she says. "The trays from the dentist were making my teeth too sensitive so I switched over."