Posted by Total Beauty 06/18/12 at 03:28PM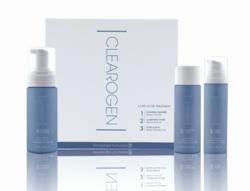 Warm weather means it's time to flaunt more skin, but when your face and body are riddled with pimples, you may find yourself dreading the days ahead. We all want clear skin, but with summer beauty essentials such as sunscreen and bug spray in daily rotation, that's easier said than done. Enter Clearogen.
Clearogen is a new three-part acne system that treats existing acne and also limits your skin's oil production to stop new zits from forming. The formula claims to be gentle enough even for sensitive skin, so you won't have to worry about over-drying your face. Plus, from now until the end of June, you can get 20 percent off the set. Go to Clearogen.com and enter "acneawareness" in the coupon code to receive your discount.